Featured artwork by Sarah Jane Harper
This weekend is a big one for art in Wrexham.
Starting off at Oriel Sycharth on Friday there is a private view from 5 p.m. until 7 p.m. for the new exhibition, "in-between-ness: using art to capture a sense of self", an exhibition of paintings, film stills and moving image by contemporary artists Karen Heald and Susan Liggett
in-between-ness is an innovative exploration of the effect that art has on the way that people express themselves and respond to their environment whilst undergoing treatment for mental health problems.
The works displayed are the result of a collaborative study between professional artists, clinical researchers and people suffering from depression to explore the experiential effects of antidepressant treatment.
The exhibition also brings together the artists' individual and collaborative artworks, exploring their relationship to being in-between, and aims to capture a sense of self brought about by a prolonged engagement in the creative process.
More information here


Then, from 7 p.m. until 9 p.m. the Glyndwr Collective launch their open studio as part of this years Helfa Gelf, which provides a great opportunity to see and buy terrific work from a diverse mix of artists.


And, with pleasure, we would like to invite you to Un Deg Un for the launch party of two new exhibitions.
"An exhibition of Helfa Gelf artists" features work from some of this years Art Trail studio holders and Paint the Town is a collaborative exhibition of portraits and urban landscapes by two local artists, Mikey Jones and Erica Taylor.
Helfa Gelf is now North Wales biggest Open Studio Event, with 300 artists taking part. Artists in Gwynedd, Conwy, Denbighshire, Flintshire and Wrexham will be opening their studios to the public during the four weekends in September, providing an opportunity to experience firsthand how arts and crafts in the region are created and purchase artwork directly from the artist.
We'll be acting as a town centre information point for Helfa Gelf during September and encouraging visitors to seek out some fantastic artists and makers across North Wales.
We'll be opening the shutters at 7 p.m. and we'll have DJ sets from Buddha Fist, Hood/Flare & Victorian Hardware before his show with Waltz at the Commercial. See you at the front!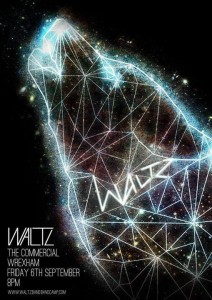 So if you're super keen that's a pretty busy Friday night. For a more relaxed Saturday afternoon get to Oriel Wrecsam. From 2 p.m. until 4p.m. there is an opening event for this years Wrexham Open and we're very exited to see what's been selected!


If you know of something we've missed, shout at us on facebook or twitter. Whatever you do, enjoy your weekend.