We've been a little quiet on the internet recently as we've been changing exhibitions over at Un Deg Un but we're here to bring you good news.
Cast your mind back to our first show which was a collection of Masters and Graduate work from Glyndwr's North Wales School of Art and Design. It was fantastic to share a wealth of versatile work from a diverse group of artists, some of whom have gone on to exhibit in high profile galleries.
Rebekah McEvoy graduated after studying Design and Applied Art having previously studied fashion and Fine Art.
Rebekah McEvoy's latest design collection, Brutalite is being exhibited during London Design Festival which will allow the public to view how contemporary designer art can create an intriguing antithesis between light, form and concept. The show runs from Saturday 14 September 2013 until Sunday 22 September 2013.
Brutalite is Rebekah's latest design collection and is inspired by Brutalist Architecture and elemental forms, focusing on the positive and negative spaces and how light can alter this perception. Working with new technology combined with traditional materials and techniques Rebekah creates sculptural designs and contemporary art works that are both edgy and elegant.
In our nations capital, at the Wales Millennium Centre, Katie Cyfenw is exhibiting work from her series of 'Masks'. The show is curated by Cardiff-born artist Pete Fowler who's instantly recognisable artwork has graced many a Super Furry Animals record sleeve. Talking about Katie's work in this BBC article, Pete said: "Katie's work had something of the horror of Francis Bacon about it and really grabbed me as it is quite unsettling".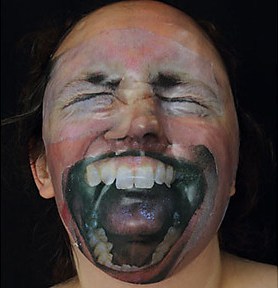 And, closer to home, illustrator Rhi Moxon has won the Student Prize at this years Wrexham Open currently exhibiting at Oriel Wrexham.
Good to see some well deserved reward for all the hard work!
If you know of something we've missed, tell us on facebook or twitter.