The latest exhibition at Galeri 3B brings together four of Finland's leading contemporary artists showing work alongside emerging and established artists from Wales. Llif/Flow/Virta is supported by FRAME: Visual Arts Finland and this exhibition marks the fourth leg of this very successful exchange programme, which yields some strange and fascinating work.

www.frame-finland.fi/en/ or follow them on Facebook www.facebook.com/FrameFinland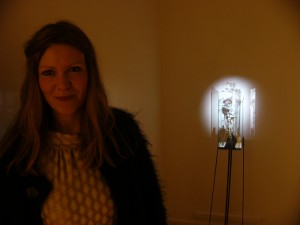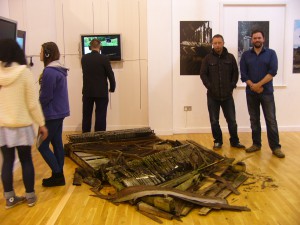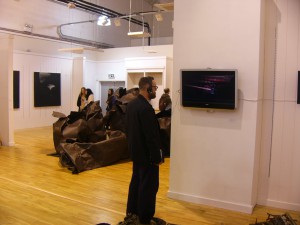 Much of the work in this show is pushing boundaries between disciplines, such as Ant Dickinson and Andrew Gale's installation "Nothing New", which records the gradual decomposition of a piano in a Welsh field. The film which is shown alongside the decaying piano, is comprised of a thought provoking piece of music, formed by Dickinson playing the piano at intervals over a two year period, and then fusing the sounds together digitally. The result is surprising and intriguing.



The art of the Finns is a real treat for us in the U.K. and something we will rarely encounter. It is a window into a strange world of nightless summers and dayless winters. The darkness of Anne Tompuri's large canvasses speak of the dark lakeside nights. But the darkness in her work serves to accentuate the light, which streams forth, white from horizon line or open window.



Maija Helasvuo's solidly made woodcarvings "Messenger 1 and 2″ bring us suddenly into contact with our own mortality, but somehow, she does it with empathy and understanding. Her handling of the material has a solid base in craftsmanship, which coexists with a poetic free self expression.



Mika Karhu's work is dark in the sense that he depicts the darker sides of human nature, and makes us aware of our dependance on the society we have made, whether we agree with the direction it takes or not. In this series of drawings "Anatomy of Pain" there is an awareness that though there are things to be sorry of, there is also room for pathos and humour in human life.



Nora Tapper's huge standing tarpaper bags make up a striking installation called "Darkness". They have a sinister presence, which has intrigued visitors so far.



The featured Welsh artists comprise some of the wealth of talented artists which are springing up in and around the Wrexham area.



Featured Finnish Artists:
Maija Helasvuo
Mika Karhu
Nora Tapper
Anne Tompuri
Welsh Artists:
Tom Gilhespy
Amy Sterly
Angela Davies
James Harper
Katie Cyfenw
Marja Bonada
Ant Dickinson and Andrew Gale
If you would like to see more of the type of work Frame does please feel free to visit their website
www.frame-finland.fi/en/ or follow them on Facebook www.facebook.com/FrameFinland