I don't think many expect much of North Wales, other than sheltered hobbit-like creatures, pit-stops for washout bands and Rhyl. I can't tell if people outside of the area think it's just like Mordor up there. It's not ill-founded; having grown up in Wrexham, the other-worldly nature of the place strikes in a way that I don't think people quite get elsewhere.
Growing up with an isolated love for DIY punk music, it took me a while to find anything remotely like that. There was a small metalcore/toughguy hardcore scene, but nothing I felt I identified with. I had never had much experience of punk in the physical world until that time, bar going to find stuff elsewhere. That was until my boss (at the time) told me that he was putting a band together with a few friends. Mowbird are a four-piece slacker pop band with a lo-fi buzz, a hard hitting punk backbone, a nod to 90s indie rock and kickass pulsating keyboard.
Ben Sawin (vocalist/guitarist/primary songwriter), Sue Dempsey (keyboard/vocals), Ben Trow (Drums/vocals) and Mike Smith (Bass) have grown over the course of four EPS, a couple of singles, some handmade t-shirts & CDs and find themselves at the beginning of 2014 with the release of a 7″ on Popty-Ping Records for their songs "Happy Active Horse Organ" & "Carousel" and preparing to release their first LP Islander (coming out on Cardiff-based Shape Records).
It's been a long time coming, but ultimately welcomed and thoroughly exciting. Recently, to show off this brand new present to the world, they announced a tour (a couple of dates with the cute and fluffy RADSTEWART*), hittin' the following stops:
FEB: 7th – (ALBUM LAUNCH PARTY) FOUR BARS, CARDIFF
17th – (Cheesus Crust Records Presents) FUEL, MANCHESTER*
18th – THE ROADHOUSE, SHEFFIELD*
20th – JT SOAR, NOTTINGHAM
21st – TANGLED PARROT, CARMARTHERN*
22nd – LE PUB, NEWPORT*
23rd – CAFE KINO, BRISTOL*
24th – OLD BLUE LAST, LONDON
25th – THE PRINCE ALBERT, BRIGHTON*
26th – THE COMMERCIAL, WREXHAM
FULL TOUR DETAILS: https://www.facebook.com/events/651014531607136/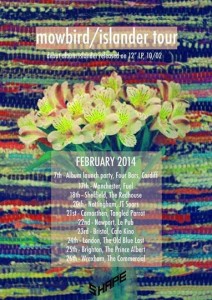 I think you would do well to go down to one of them. I'm putting on the Manchester show (which is FREE entry, but we're encouraging donations). If you're into Joanna Gruesome, Playlounge, YRRS or anything catchy and fast, get involved.
The band have been announced to play Focus Wales in April too. (YES!)
LINX:
www.facebook.com/Mowbird
www.mowbird.bandcamp.com
www.mowbird.tumblr.com
mowbird@gmail.com
@mowbird
words and cover photo by Eliot Humphreys (Yuppy Ditch) of the permanently-passionate-punk label Cheesus Crust Records. Go check the new releases at http://cheesuscrustrecords.bandcamp.com/
www.facebook.com/cheesuscrustrecords
cheesuscrustrecords@gmail.com
@yuppyditch