With just £20 to spend on materials local artists from Wrexham and Chester have risen to the challenge to produce unique, original artworks to go on show to the public at Undegun.


The latest exhibition will feature work from members of the Chester Contemporary Artists group who have combined with local artists including studio holders and friends of Undegun.


Designed as a challenge to artists, the exhibition asks contributors to produce a new piece of work from a budget of just £20 spent on materials from Wrexham's historic markets. The aim of 'Open Market' was to encourage the town's creative community to engage with the town centre, specifically the town's markets, and to produce original work to present to the public.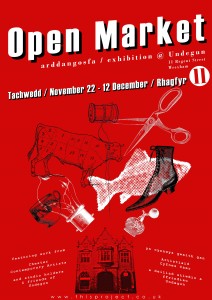 Artist Jo Marsh, who is also a studio holder at the art space, says:

"As a participating artist, Open Market has meant an opportunity for me to create new work which falls outside my usual practice. Through sourcing materials solely from Wrexham's markets, I have been able to explore and interact with these places in a different and more personal way; The making process has been guided by what I have discovered on the stalls. Hopefully the exhibition will convey a symbolic message about our appreciation of not only the markets but Wrexham town as a whole – a place artists are gladly choosing to live and work."


The exhibition will be the last one of the year at Undegun (formerly JJB sports on Regent Street) before it opens again next year. It launches on Friday 22 November at seven o'clock and will run until Thursday 12 December.


Between the exhibition launch and the end of the year we have plenty more in store.
The Wrexham Community Artists Network (Wrexham Cân) are meeting for the first time on Wednesday 27th of November. A creative network giving the participatory arts in Wrexham a voice, Wrexham Cân will offer community artists in all disciplines and at any stage of their career a space to share their experiences, reflect on their work and make connections. These gatherings will be run in partnership with Welsh National Opera and Arts Connection taking place on the last Wednesday of each month – except December.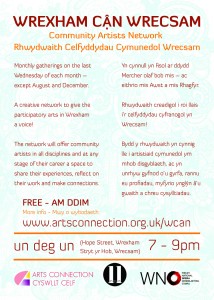 On Saturday 30 November Urban XI returns. This platform for creative musicians and electronic artists to experiment, improvise and collaborate will run alongside a comic-book workshop hosted by local illustrator Heather Wilson.


The final date of Camera's winter tour, which also saw the band play at Swn festival in Cardiff, is a special homecoming show at Undegun on Friday November 6. Support comes from Sparrowhawks and Baby Brave.





On Monday December 9, from 7-9 p.m. local student & writer Tim Humphreys-Jones and THIS Project will again be offering a warm welcome to local writers, poets, lyricists, beatboxers, performance artists, comedians, singers and story-tellers to Voicebox after a successful debut earlier this month.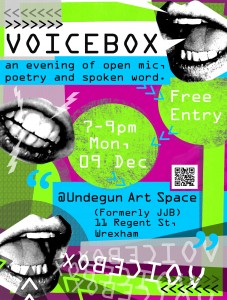 The last day of activity at Undegun this year will be Saturday 14 December and there will be an indoor Christmas market and end of year show. Throughout the day local artists and crafters will be sharing their unique wares and offering you the opportunity to make some great purchases in time for Christmas. Anyone interested in holding a stall should email contact@thiproject. Then, once the stalls are cleared away the show begins. Run in partnership with Focus Wales, The Roseville Band, Doppelganger and Sparrowhawks make a great billing for the 'Winter Mixer'.

Also, there's a Craft & Chat group on every Thursday afternoon from 2.30 until 4.30 so come along to that if you can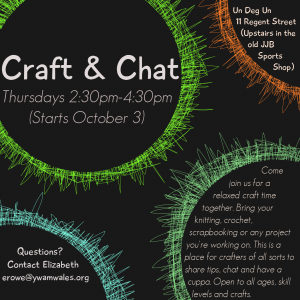 For more information on these events visit www.thisproject.co.uk and for information on how to get involved or volunteer your time email contact@thisproject