"Today we proclaim our words to you people. In the squares and on the streets we are placing our work, convinced that art must not be a sanctuary for the idle, a consolation for the weary, and a justification for the lazy.
Art should attend us everywhere that life flows and acts….at the bench, at the table, at work, at rest, at play, on working days and holidays…..at home and on the road….in order that the flame to live should not extinguish in mankind.



We do not look for justification, neither in the past nor in the future.
Nobody can tell us what the future is and what utensils does one eat it with.
Not to lie about the future is impossible and one can lie about it at will.
We assert that the shouts about the future are for us the same as the tears about the past: a renovated daydream of the romantics…..


He who is busy today with the morrow is busy doing nothing.
And he who tomorrow will bring us nothing of what he has done today is of no use for the future.
Today is the deed.
We will account for it tomorrow.
The past we are leaving behind as carrion.
The future we leave to the fortune tellers.
We take the present day."



Taken from The Realistic Manifesto, written by Naum Gabo and Antoine Pevsner in 1920. These two Russian artists were pioneers of early 20th century sculpture and prominent members of the Constructivist movement.



Today Is The Deed, the new exhibition opening at Galeri 3B is supportedd by the Arts Council of Wales and features four artists; Omar Batoctoy, Marja Bonada, Ciaran Gogarty and Jo Marsh.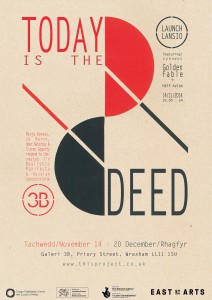 All four artists are very interested in this period of Russian art history, and this exhibition is an attempt to understand the thought processes of the Constructivist artists. The manifesto is written at a time of extreme optimism, after the Great October Socialist Revolution of 1917, when artists were being employed to help build the new society.
From their writings and sculpture, you can sense the strength of their belief that, through art, film, music, dance, theatre and literature, they could make a society to be proud of; one that everyone could live happily in. It is sad that ultimately they failed, and Communism led to a lot of poverty and chaos, and eventually the Cold War.
But there were many good ideas in the air at that time, and there remains a lot of creative work that we can learn from. We can take their ideas and bring them up to date, and use them to regenerate our towns, and make an atmosphere that is inspiring and life affirming for the people that live in them, through culture in all its forms.



Omar Batoctoy is a recent graduate from Glyndwr University, Wrexham. Here he speaks about his experience of studying at the Art School, and his final degree show sculpture:
"I had been studying the works of Constructivist artists Naum Gabo and Vladimir Tatlin at the time. Both of which have been major influences in my recent works. So much so that my final piece of my 3rd year and degree show is almost a conceptual appropriation of Tatlins famous Monument to the Third International of 1920. Tatlins tower was a symbol of growth and revolution in Russia during his time, whereas my 10ft tower, Man and Nature is a symbol of growing use and ignorance towards detritus material in our throw-away society."


Marja Bonada is a Wrexham based artist, who also works with THIS Project, to deliver various art based projects to the gallery spaces in the town centre:
"My work has always been influenced primarily by observations of the natural world. It is there where we can find everything we need to know; how to construct strong, efficient objects, whether it is for architecture, clothing or anything else we might need, but also how to live in balance with our environment, whether it is rural or urban. Nature is all about balance, and if we can take this principle and use it in our own lives, we will be successful and the world will not be harmed by our success.
The constructions I have been making recently are attempts to understand some of nature's construction techniques, sometimes by mimicking effects, sometimes by seeking sound methods of construction."


Ciaran Gogarty is a painter from Ireland. He paints from nature, but through deconstructing and reconstructing the colours he observes, makes an abstract arrangement of hues:
"Where my practice up to now, has been colour specific within nature, I will pursue the Constructivist position of Art for social purpose, to highlight the ongoing ecological crisis in our natural environment, global and local.
Before my interaction with Galeri 3B, I had merely a rudimentary knowledge of the Russian Constructivist movement. These last weeks have been revelatory and highly informative….This endeavour can be understood as a dialogue between artists of like mind to explore and elaborate on the theory of the Socialist object-as-comrade, in the practice of art, in contemporary society."


Jo Marsh is a Wrexham based artist, also working with THIS Project, she has curated exhibitions and projects involving art and artists in various locations in the U.K.
"Within my practice as an artist and curator I am predominantly concerned with the overlap between sculpture and performance i.e. objects and forms which, rather than being passive, are central catalysts to performative situations.
This area of interest is evidenced in a number of my existing works; including my ongoing project With Love From The Artist, and my travelling gallery-sculpture WanderBox.
With this in mind, I respond strongly to certain assertions from the Realistic Manifesto which place particular emphasis on art existing within and as part of quotidian lived experience."



The launch of the exhibition is Friday 14th November, and will coincide with the album launch and a concert by Golden Fable.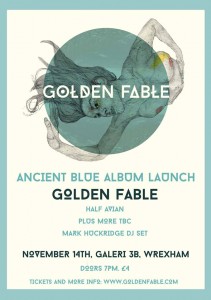 Golden Fable are Rebecca Palin, Tim McIver and Jack McCarthy, and together they create music described by The Line Of Best Fit as "nothing short of inspirational".

Hailing from the foothills of mountainous north Wales, Golden Fable compose their music within its abundant, richly varied landscape. Pairing these organic influences with modern instrumentation, debut album 'Star Map', released in 2012, was constructed from electronic beats, synths and processed effects alongside guitars, pianos and strings, resulting in "an incredibly gorgeous dream pop collection" (In Your Speakers).

Twelve months of writing and evolving followed, and the band resurfaced from their creative retreat with second album, 'Ancient Blue'. Recorded with David Wrench (Bat For Lashes, Caribou) and Jimmy Robertson (Anna Calvi) in Snowdonia, 'Ancient Blue' is impassioned, intense and bolder than its predecessor. It is both strident and intimate, reflecting the intrinsic connection between human forces and natural forces.



Ancient Blue is released on November 10th through Full of Joy Records



Support comes from nostalgic-futurists & experimental pop-makers Half Avain plus alternative/folk singer-songwriter Pamela Wyn Shannon with cellist Sian Meirion


goldenfable.com
halfavian.co.uk