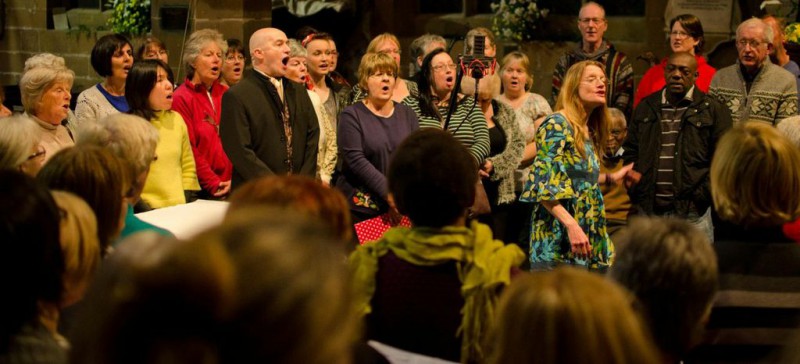 On Tuesday 26th March Wrexham Community Choir are inviting people to join them at their choir social and fundraiser where they will be celebrating the fantastic year they have experienced so far and the exciting performances planned for the year ahead. Taking place in Saith Seren from 7.30pm onwards, the night will include very special performances from members of Heal the-Last Stand and Baby Brave, who have all been members of the choir since it's formation last year.
Emily Warren, a member of the choir and singer in Baby Brave, said "I'm so glad I started singing with Wrexham Community Choir. We do these awesome songs with crazily good harmonies in all different languages – it's so uplifting, and can actually be an emotional experience. A personal highlight of 2012 was singing the Welsh National Anthem on TV with the choir."

The night will cost £3 on the door and performances will include Spoken word poetry, live music and storytelling by members of the choir capturing the heart of the community. Laura Dickenson from Heal the-Last Stand said "Wrexham Community Choir is a chance to see how a community of apparent strangers can work together to create something beneficial for all".
Wrexham Community Choir was founded by @sixtyseven Communications, a Wrexham based social enterprise and winners of Network She's Social Enterprise of the year award 2013.Carol Donaldson, award winning Musical Director of Wrexham Community Choir described the choir as "An amazingly warm, diverse and positive bunch of people whose combined voices and energy can move mountains!"

Following on from a fantastic first year there are many great plans for year for future performances in 2013, these include singing at the Focus Wales music festival in April and a perfomance at Bangors' Kaya Festival in May. The choir will also be singing with Charlie Dore, known for her enduring radio classic 'Pilot of the Airwaves' and acoustic folk country roots which led for an impressive song writing career and performances selling out audiences across the UK. This special concert will take place on Saturday 8th June at St Giles Parish Church.
Wrexham Community Choir has just become a Wales Africa Community links project and this year will continue working with the award winning Africa Entsha from Soweto, who were nominated for best live performance at Edinburgh Fringe festival 2012 and will be running singing workshops and performing with the choir in the summer. You can also catch the choir performing at the Street Choir Festival in Aberystwyth from Friday 19th – Sunday 21st July.
Wrexham Community Choir is open to everybody no matter what their experience who wants to be part of a community.
The choir meet on alternate Tuesdays from 7.30pm – 9.30pm in the Wrexham Methodist Church and the Wrexham Lager Club.
Everyone is welcome – from seasoned singers to terrified beginners.
Cost £3.00. £2.00 concessions.
For more information contact Wendy Paintsil on 01978 290680
or email choir@67communications.co.uk

All photos featured by Richard Geraghty.