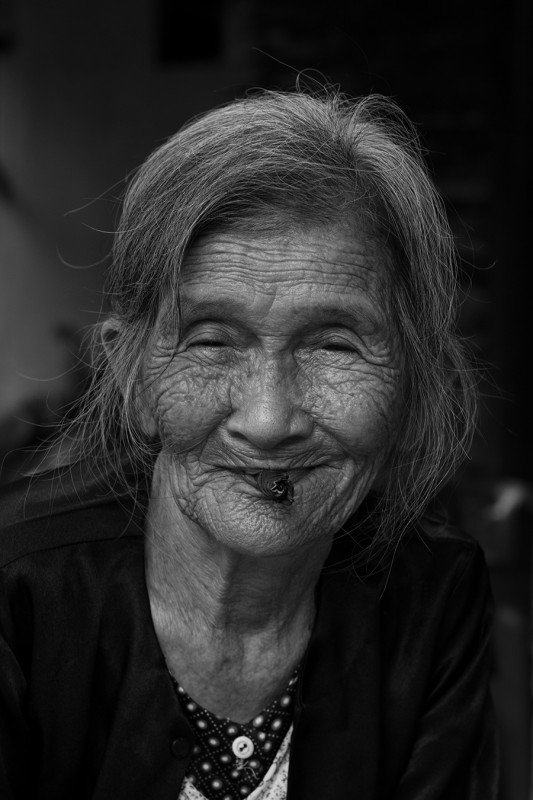 After a quick Vietnamese beef curry In the DMZ bar along the
busy street of Hue we departed for our tour around the
demilitarized zone which my friend Craig had been longing for.
He's very much the war historian and he'd been looking forward
to this the same way you or me looks forward to bed after an
excessive 7am, alcohol fuelled rampage out.
We arrived at an old US Army outpost that had been heavily
bombed during the war and was, well deserted, just a gift shop
with some dusty cans of Pepsi and no attendant. We wondered
around the vast open space and walked over to the various
wrecked tanks and planes dotted around. Then in the distance a
man was running over carrying a strapped box around his waist
the sign of a sales man. After following us around trying to
sell various old bullet casings and odd medals at obscene
prices he finally left and so did we.
We pulled up outside the next spot on the tour and our guide
walked us over to a small shop were we sat and had some coffee.
Whilst waiting I noticed an old lady which some sort of home
made sieve, sieving though various herb looking plants whilst
smoking a hand rolled cigar which is unusual to see a woman
smoking in Vietnam. I walked over to her and smiled, pulled
up my camera, did the universal hand gesture of tapping at
the camera and then at her, she nodded with a greeting smile.
I took a quick shot, looked back at her and under stood the
universal rubbing of thumb and forefinger and handed her a
10,000 dong note (33p).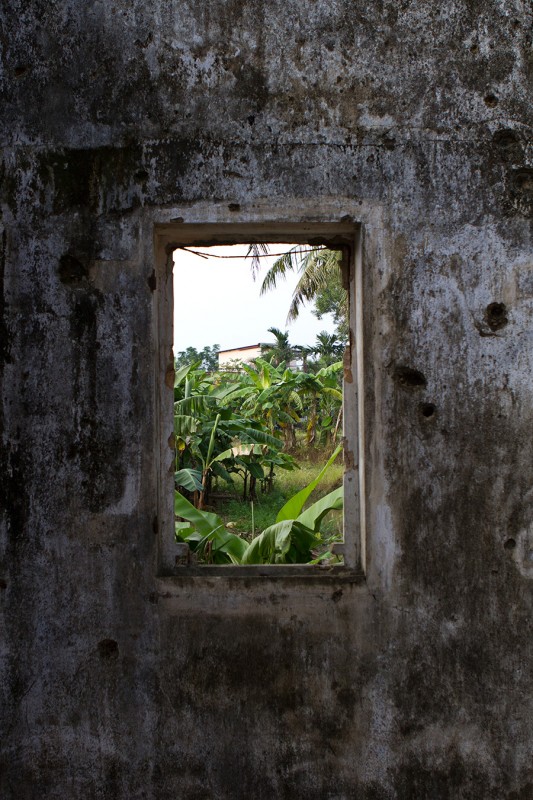 Still on the same trip around the DMZ we arrived at an old
church that had been used as a last stand. The Church was bullet
ridden and on its last legs.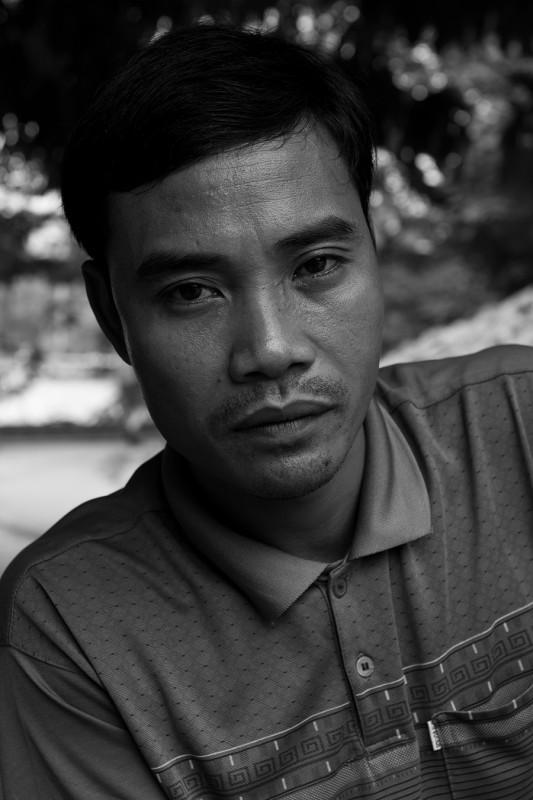 Sat outside Ngoc Son Temple bridge having a quick break
whilst doing a walking tour we found in the lonely planet book
this man Rolled over in his chair trying to sell us post cards and
random odd bits. I say rolled as we was in one of these strange
wheel chairs where the steering wheel also provides the
momentum to drive the cart forward by rocking it back and
forward. This was now 9 weeks into the trip and money was
becoming a concern so I couldn't afford to dish out 60,000 dong
on a (10) pack of post cards (£2) which I knew I could buy individually
for 2000 dong in a shop. I had also been stashing away
10,000 dong notes as payments for photos so offered him the
10,000 for a photo instead.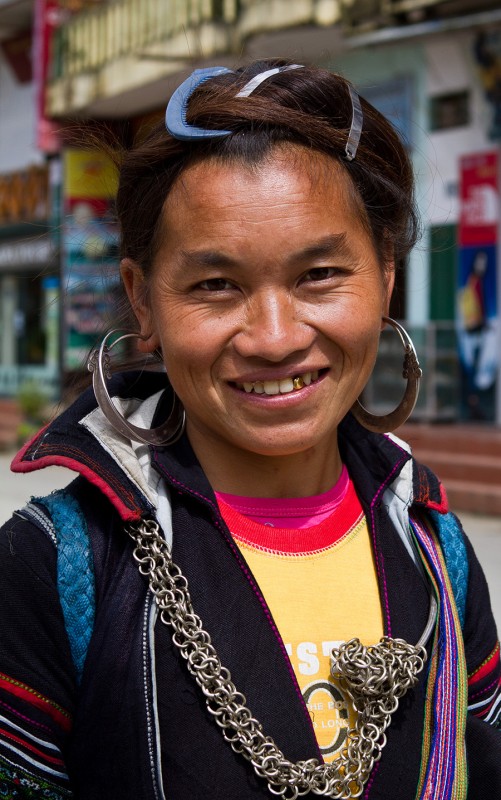 Shoe as she introduced herself is a Hmong tribe lady from one
of the local tribe Villages outside of Sapa just off the Chinese
boarder in the high northern mountains in Vietnam. I actually
felt that despite trying to sell me vast amounts of jewellery and
hand bags that the Hmong were actually very genuine people
nothing like the street sellers from Saigon. Yet again 10,000
dong got me a smile a photo and, this time, a phone number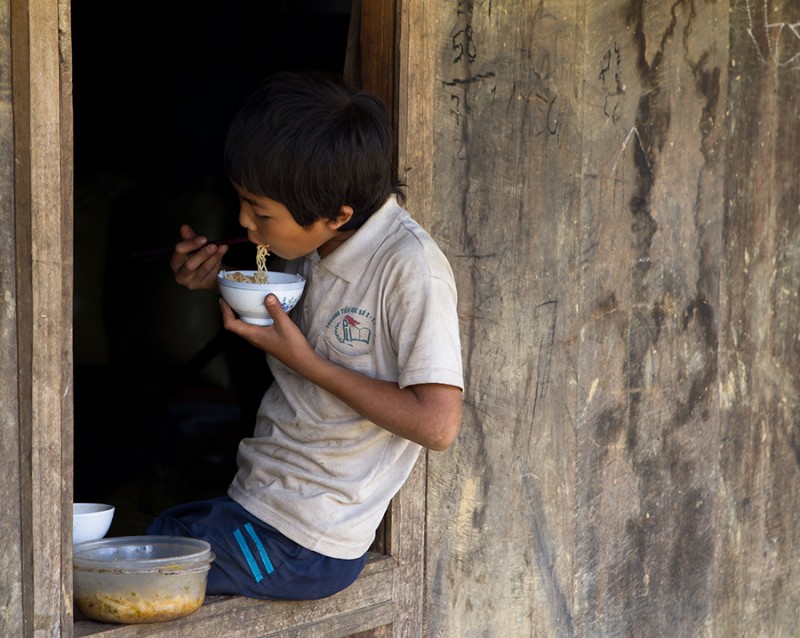 Nearing the end of a 18 mile hike through the bordering Chinese
mountains outside Sapa we walked through a local village
where I managed to get this quick shot of a boy enjoying his noodles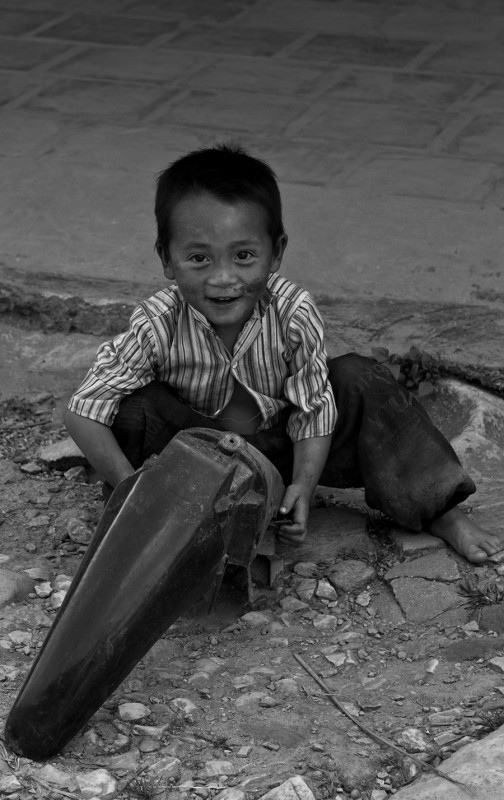 This was probably the happiest child I'd seen. Descending from
the mountains into yet another village that was more localized
on a small road, this young lad was playing outside a mechanics
shop playing with the rear mud guard of a bike.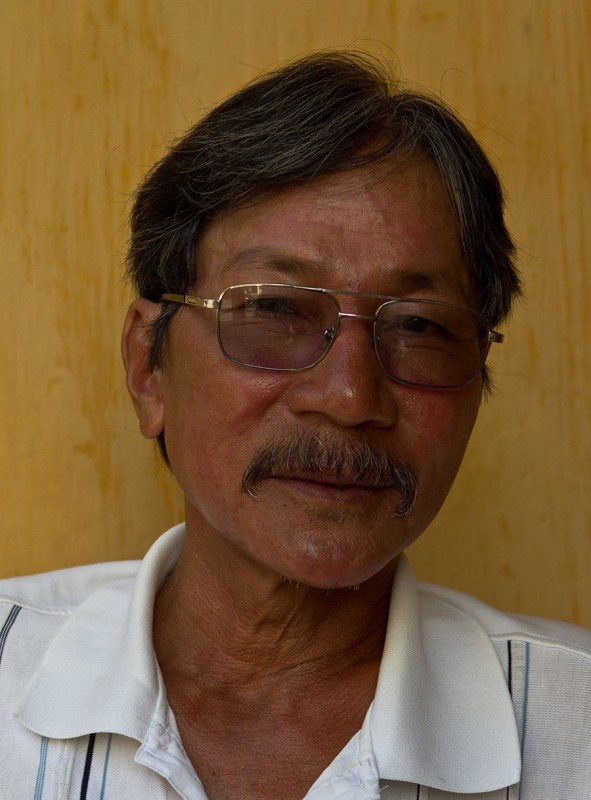 Traveling back down South we stopped off at Hoi An again a
busy tailoring town where any garment you can imagine can
be tailor made and a very reasonable price. I had 2 custom made
jackets and 3 custom made shirts designed here costing me
around 3,500,000 (£100). Sat out side our local breakfast point in one of
the old Chinese built buildings with yellow stained walls I noticed the owner walk past
and smiled at me as he recognized us as this must have now been our 14th time there to have
a breakfast (a bowl of the local delicacy "cao lau" which you can only get in Hoi An as its
made with water from the local Cham Well) . He sat at the table across from us and just before we left
I quickly asked if I could take this shot.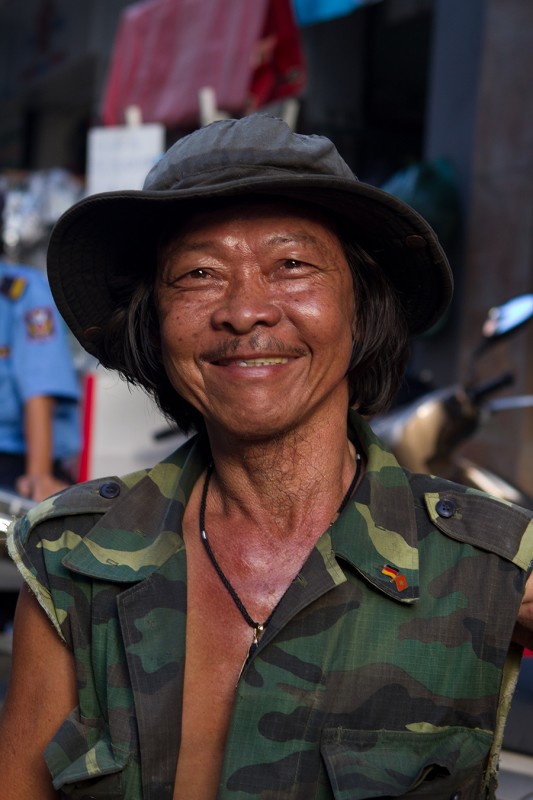 Taken on the main backpacker strip in Saigon this man used
to wave and say hello to us every day outside bobby brewers
one of the small chain coffee shops in Vietnam. He worked as a
mechanic. I took a few photos and he asked only for a beer at
20,000 (66p) and after that I bought him a few more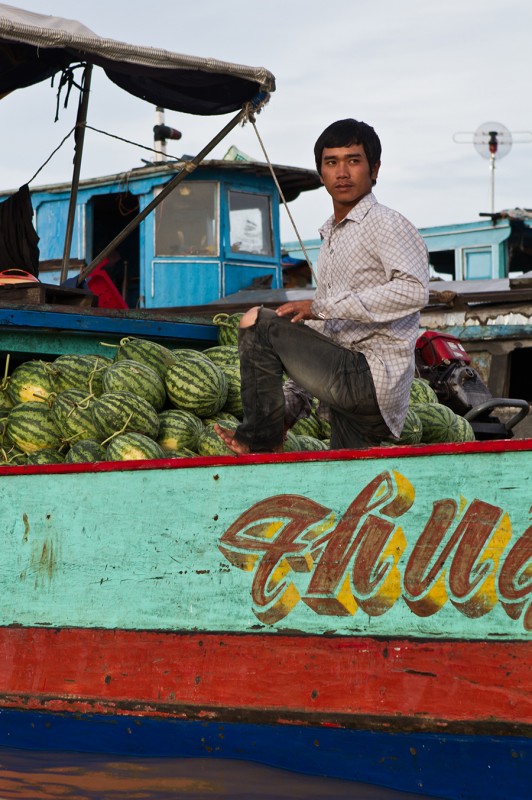 We were traveling down river from Can Tho in the Mekong and
passed through this floating market. The man in this picture
actually walked into the shot and took this pose without realising
I was taking a photo
Yet again floating down the Mekong I grabed this picture as we
passed by this fisher man who gave me a long stare and hence
why I describe him to others as the Clint Eastwood of Vietnam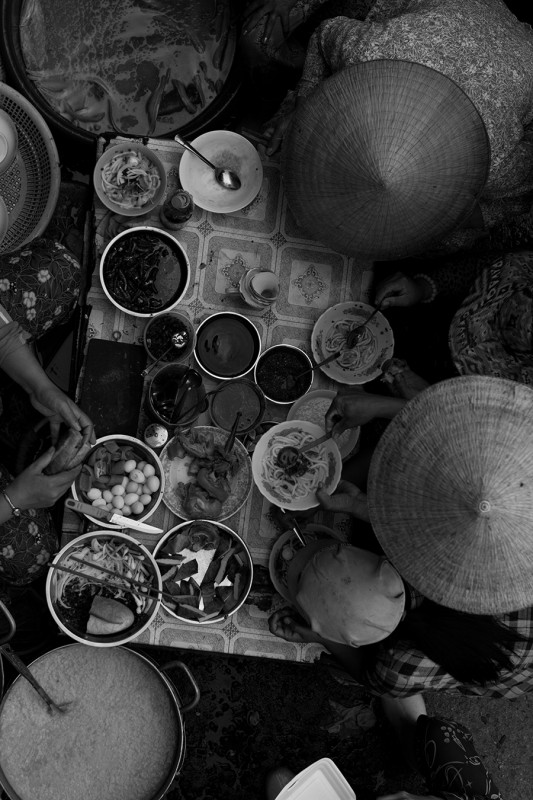 I had gotten chatting to a local Vietnamese photographer Long
Thanh and we had agreed to meet up the next day and he would
take me to old Nha Trang. We met up at 6am and got a taxi to
the local fishing market. The area teemed with Vietnamese
bring in new fish or buying fish for either their family or a
business. We took a long ally which stank of fish, more so than
the rest of the market and headed up some stairs onto a large
balcony area which doubled back to the market but gave us a
higher view point. Looking directly over the rail I noticed I was
above a group of dock workers sitting down for breakfast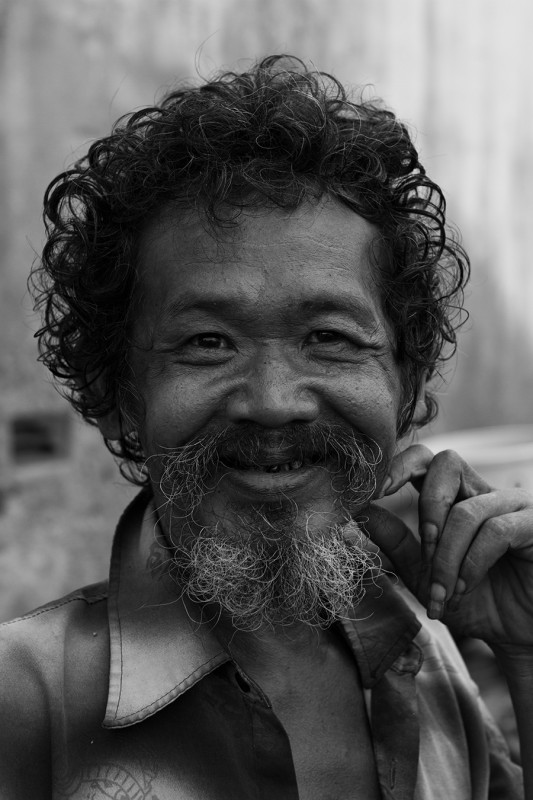 Still in Nha Trang with Long Thanh. Being with Long Thanh
who grew up in this area and new the locals was vast advantage.
I was able to approach people much easier and they were much
more willing to have their photo taken. This man was wondering
around the docks and the long finger nails he has are a sign
of pride that he is financial well off and does not need to work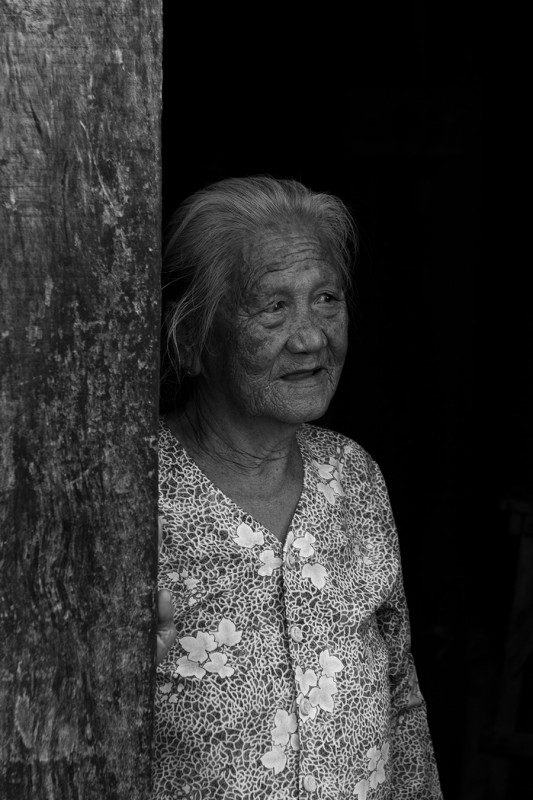 Following behind Long Thanh I noticed this old woman watching
him as he passed and took the opportunity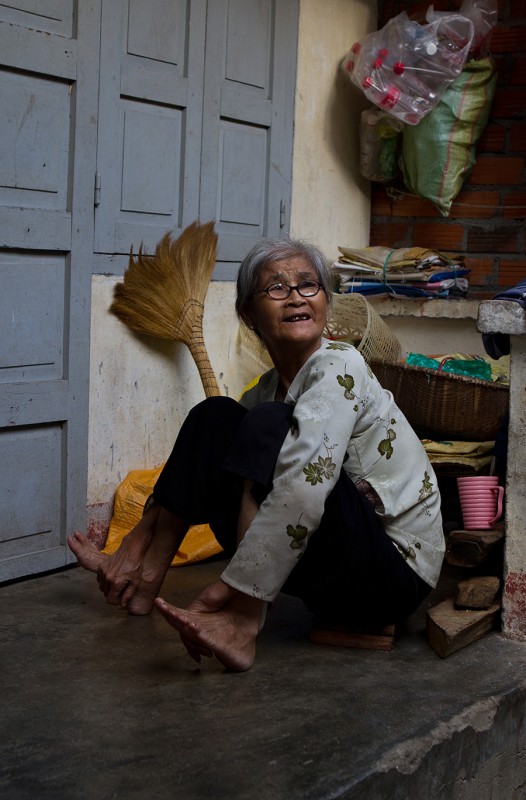 Walking down the Residential area of Old Nha Trang I caught
this lady sitting down watching the children play.
There are plans to turn these photographs into a book, keep up to date with this photographers work on his website – http://omcphotography.wordpress.com/