Last week we took a little road trip to Galeri in Caernarfon to visit one of our studio holders, Jo Marsh and to talk about her Wanderbox project and its current 5 stop tour around Wales and how its most recent stop with Morgan Griffith at Galeri has gone.
For those of you who haven't had the pleasure of seeing Wanderbox or fully understand its ambition, it is a portable gallery and residencancy that allows artists to set up their practice just about anywhere and carry out a residency and exhibition at the same time.
The project started off with Jo wanting to convert an old wardrobe for the purpose of being able to exhibit herself and other artists work but soon quickly expanded on the idea and had to redesign to accommodate other residencies.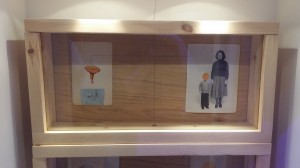 On the road trip to Caernarfon I had the enjoyment of going up with Jo and got to ask her a whole bunch of questions about Wanderbox and what the challenges of creating the gallery have been, as well as what it has meant to Jo as an artist and curator.
Whilst on our trip, Jo explains that from the start Wanderbox is all about portability, so has been specifically designed to fit through a standard doorway and so that it can fit into a small van. As well as it being aesthetically pleasing she has understood that good design is key to ensure the success of the traveling aspect of her work. Next is about the artists and how the folding desk at the side is at standard height for an adult to ensure comfort whilst on residency. For the construction of Wanderbox Jo contracted a joiner and engineer to ensure the durability for the long term, which is vital considering that it will be making a 5 stop tour around Wales which include; Ruthin, Caernarfon, Swansea, Cardiff and Llandudno.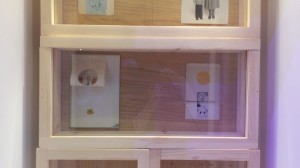 After Jo explained the design aspect of her work, I wanted to know who Wanderbox was aimed for and what type of artists is she working with currently and in the future. She expands that Wanderbox is for artists in the early stages of their carrier to help further their practice.
Within Jo's previous work there have been themes of playfulness and interaction that makes her work accessible towards the public and encourages participation within the arts. Some of Jo's previous work has included; Today is the Deed, I Know You, You Can Come With Me, Woolgathers Art Vendors and With Love, From the Artist.
Wanderbox is a great addition to this list and while I was in Caernarfon at Galeri, it was interesting to hear Morgans take on his residency as well as his process to creating his artwork.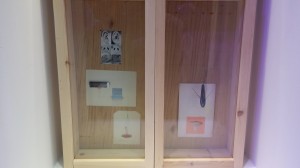 Morgan's process starts off by exploring and searching for materials in places such as charity shops and markets in Caernarfon, making the artwork created personal to the area that it has been created in. Morgan was asked when he started his project, what was his end goal and what was he was hoping to achieve? He replies, "to finish it" and that he see's his work as a "story without an ending" and that the way he works is to gather his materials and explore his options until his work feels finished, Morgan also says how colour is a vital part of his work, he achieves this by adding layers to his collages. Questions were then asked about the weight hanging from the bottom right frame and then threaded through each frame. Morgan explains that it is a way of creating tension within the narrative of his work.
It has been spotted within Morgans work, that a fascination and fondness towards mushrooms and fungi keep cropping up, such as Homēros, 512 and Impolicy. This is due to what Morgan sees as the aesthetically pleasing nature of mushrooms and fungi. With Morgans work there is a tendency to pick an object and experiment and indulge with its use, eg. Shells that have been used in such work as Trochus Niloticus and Tritons Trumpet.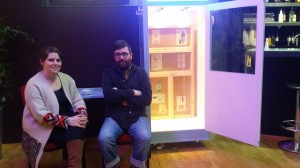 During my conversation with Jo and Morgan they describe the experience of the Wanderbox residency as a performance piece and that every artist that is involved  will contribute to a completely different experience for the audience. By the time the 5 stop tour is finished they will have been 5 different performances. Just like on stage, the artists bring their own props, in this case Jo has asked each artist to bring their own chair to help bring a sense of identity and comfort for the artist. The idea that every day the artist comes into the space and sets up their work for the day and creators, is not so different from an actor warming up and putting on a performance. Interacting and engaging with the audience can often be a challenging aspect for an artist that normally works in solitude, but there lies the test, coming out of their comfort zone and experiencing a new environment to work in.
For the rest of the tour it will be interesting to keep up with the artists involved in Wanderbox and see how each performance evolves and differs from one to the other The conversation with Morgan and Jo was a great opportunity to see the insight of this contemporary portable gallery and how it is helping develop artists within their practice and how important it is to push not just the artist but the way we, the audience view the art.
Sources:
http://withlovefromtheartist.blogspot.co.uk/