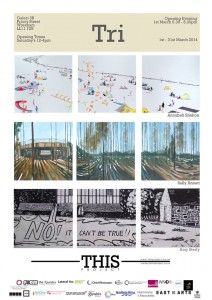 THIS Project will soon be launching Galeri 3B, a brand new 'pop-up' gallery in the former Laura Ashley shop on Priory Street in Wrexham town centre. On Saturday, March 1st 3B will open with an exhibition of work by three artists; Annabelle Shelton, Sally Annett and Amy Sterly.
The opening exhibition, Tri, runs throughout March and is made up of work from three artists all of whom have impressive credentials. Annabell Shelton has a vibrant and playful nature in her work, capturing fleeting moments of life with the use of bright colours. The artist won The John Moore's Painting Prize in 2010.
Sally Annett works across all media and has developed her collaborative and curatorial projects, in 2008 establishing FRINGEMK, Celebr8 and The Milton Keynes Cenotaph Projects. Annett's own work is currently of a symbolic and surrealist nature. Amy Sterly's work relates forms that make up our modern landscape and creates work using the media of print and creates bold, detailed, wood cuts. In 2011 Sterly exhibited work as part of Wrexham's Print International and has exhibited at the Oriel Wrecsam on a number of occasions.
Artist and exhibition coordinator Marja Bonada, who organised a Finnish-Welsh exchange at Oriel Wrecsam in 2012 and is planning another at Oriel Sycharth for later in the year, comments;
'These three emerging artists are being brought together for the first time for the opening of THIS Project's new gallery space. Amy Sterly's thoughtful take on memory and loss, and her cynical look at domesticity contrast with Sally Annett's flamboyant, beautiful landscapes. Annabelle Shelton's pared down, skilfully painted townscapes are a product of her observations of human beings in the environment they have created. These are three high quality artists who have made a big impression on the art world so far, we are very fortunate to have them in Wrexham for this opening show. Don't miss it!'
The opening evening for 3B will start at 6.30pm to 8.30pm on Saturday March 1st 2014 and is free and open to all. The exhibition runs every Saturday until March 31st.
In the afternoon Angela Davies is at Chirk Castle where there will be, for one day only, performances throughout the afternoon as part of 'Golau', a site-responsice exhibition of dance, sound, light and moving image. You can visit 'Golau' during Chirk Castles opening hours until March 31st.