After a string of International Exhibitions Undegun is turning the spotlight on North Wales' home-grown talent, as part of a unique project with Helfa Gelf. The month long celebration of Welsh Art invites the public not only to come along and see the work of our most creative residents at the gallery but also to take a tour across the region to see where the artists live and work.
This September Undegun will be showcasing work from a large group of artists taking part in Wales' biggest Open Studios art trail, Helfa Gelf 2015. Now in its 10th year, this free annual event is spread right across North Wales with studios taking part in Gwynedd, Conwy, Flintshire, Denbighshire and Wrexham. It presents a unique chance for visitors to peek behind the scenes, experience this normally hidden world and get to chat to the artists and crafts people about their creative process and their studio spaces. Helfa Gelf mentions:
"We think North Wales is an overlooked gem for the visual arts and crafts in Wales, with loads of artists and makers beavering away up mountain tracks and sea-side cul-de-sacs."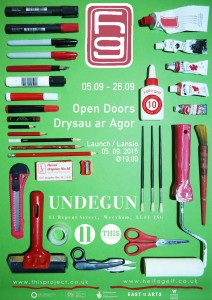 Like THIS Project who run the gallery, Helfa Gelf aims to encourage engagement & collaboration and break down barriers between artists and the public. This is the third consecutive year the two organisations have collaborated on an exhibition at Undegun.
'Open Doors' brings together over 30 artists and begins with a public launch on Saturday the 5th September at 7pm. The Exhibition will be on display until the 26th September. During their time at Undegun the exhibiting artists will be using the art space to create new work live in front of the public, with opportunities for everyone to get involved in workshop activities and learn new skills.
During its time at Undegun the exhibition will feature a number of free workshops and talks, which are open to all abilities.
On the 25th September artist Graham Mitchell and Ros Hornbuckle will be demonstrating their skills of tapestry weaving and jewellery making out of wood at Undegun from 11 to 4pm. All are welcome to come down to the venue and discuss with the artists more about their disciplines and how they find the creative scene within the North of Wales
You will receive a warm welcome from the artists wherever they are, and will join the ever-growing number of art enthusiasts who enjoy this yearly event – and remember, it's all free.
Helfa Gelf /Art Trail runs every Friday, Saturday and Sunday in September in Gwynedd, Conwy, Denbighshire, Flintshire and Wrexham. Studios are open from 11am-5pm daily.
For the 'Open Doors' exhibition Undegun is open to the public from 12 – 4 on Wednesdays and 11 – 4 on Thursdays, Fridays & Saturdays.
If you have any interest in become a part of Helfa Gelf please feel free to visit http://www.helfagelf.co.uk/en/contact/ or any questions about Undegun please feel free to send an email to contact@thisproject.co.uk