PARSING IMPOSSIBILITIES: The Art of Sameness
Robert Stephen Presents… A5 Group
Dates of Exhibition:
LAUNCH: Thursday, 30th July – 7:00PM TO 9PM
ENDS:Saturday, 29th August
The volunteer run gallery is open to the public weekly on Wednesday, Thursday, Friday and Saturday from 12pm until 4pm.
International Mystery Artists Team Up For Wrexham Exhibition
The exploits of Banksy and other worldwide street artists have thrust the concept of hidden identities, pseudonyms and secret exhibitions into the public domain, but this idea has been present in the art world for many years. For many artists keeping their identity concealed is a strong element of what they do, and allow the public to look at the work they produce without any preconceptions.
The A5 Collective is one example of this shadowy practice, with many critics claiming that the group may not even exist!
But Wrexham based THIS Project have teamed up with curator Robert Stephen to host a unique exhibition which will, for the first time ever, show examples of work from all seven of the artists in one show. The purpose of the exhibition is to throw the light into the darkest corners of the art world and to question the celebrity culture that goes hand-in-hand with being a famous artist.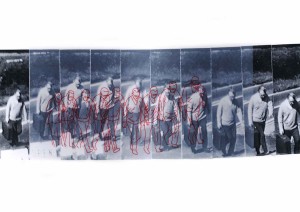 The A5 group are a group of artists based in the United Kingdom and America. The artists are (in alphabetical order):
Deceased landscape artist Ben D Gedig (real name Robert Lloyd Jones), whose work was discovered and is now presented by his grandson Robert John Jones; New-York-based digital revolutionary Richard Head (real name!); International Street Artist 'ONE'; Russian Print luminaries The Ozniak Brothers; Drago Zalaznik who looks at the art of identity; and they will be joined by artist and exhibition curator Robert Stephen himself.
Some members of the group wish to remain anonymous because they believe that the art they produce is more important than the artist. This is a reaction to our contemporary fascination with celebrity and the pursuit of fame and fortune—a world in which individuals are increasingly famous just for being famous.
A5 do not usually give interviews prior to their exhibitions, keeping quiet about precise details and often only utilising social media after the unveiling. Their manifesto talks about how over the past 20 years the increased use of computers has created a paradigm shift in the way art is perceived.
A5 state that;
"We are interested in unfamiliar ways of interacting with different audiences and sharing a conviction that constantly evolving mobile technologies and information dissemination systems necessitate a more connected and accessible art."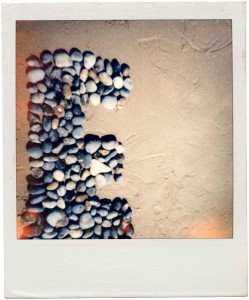 Their manifesto, which appears in full at the bottom of this post, asserts that in this digital age, art needs to become truly immersive and interact more fully with a public outside of the typical gallery habitué—and especially those people who live far from the major cultural centres.
Undegun believe that bringing the A5 group to Wrexham will provide stimulating and exciting challenges for the local art scene, especially in terms of the unconventional way the artists have approached this exhibition.
Undegun has always been known for letting artists take a strong creative role in the curation of their own work with the support of the gallery's team, but for them this will be taking the gallery experience to an entirely new level.
"Working with a group of artists like the A5 group has meant we've had to keep many of the details of the exhibition shrouded in secrecy. We have worked with Robert Stephen, who has acted as a middle-man between ourselves and some of the artists, and we've only been able to speak to them through secure channels, in case the press or the authorities are taking an interest in their activities. The challenge has proved worthwhile though, and this really will be a once-in-a-lifetime opportunity to see the work in its current form. We're very excited to have the opportunity and we hope people will come along to the launch to experience the conundrum of the A5 group for themselves!"
//// Manifesto:
We are a collective of artists, based in the UK and America. Currently we have six members and they are (in alphabetical order):
1. Ben D Gedig
2. Richard Head
3. One
4. The Ozniak Brothers
5. Robert Stephen
6. Drago Zalaznik
Some of us have never met and some wish to remain anonymous, feeling that the current preoccupation with "celebrity" is unhealthy and generates only dissatisfaction, envy and unrealistic ideas about what is significant or important. Anonymity challenges the contemporary cult of the artist in which creative individuals seek an elevated position by accommodating the status quo of the consumer society and the narcissistic pursuit of fame and fortune … at the expense of the art that is produced.
We believe that modes of communication generated by the widespread adoption of personal computers over the past twenty years have created a paradigm shift in the way that art is perceived and interacted with. However, this alternative view of art doesn't conform readily to the economic and aesthetic protocols of the art establishment, whose traditional structure inhibits the realisation that times have changed … and will keep on changing at an ever-increasing pace. We are interested in unfamiliar ways of interacting with different audiences and share a conviction that constantly evolving mobile technologies and information dissemination systems necessitate a more connected and accessible view of art.
The virtual world is open-source, cross-platform and viral. It's concerned with ideation, gamification and two-way communication. Examined in that context, art has the potential to become a truly immersive and interactive experience for those people (the majority?) who live far from the major cultural and artistic centres.
We also consider the language of art to be increasingly opaque and impenetrable and a convenient method of excluding those who are not amongst the cognoscenti. Art is essentially a visual medium, yet it has become increasingly difficult to comprehend without the additional validation of culturally acceptable language … a picture is no longer worth 1000 words. A picture is worth nothing unless accompanied by 1000 words of dense prose interspersed with obscure philosophical references.
We provide minimal explanation of our work because there is no correct response to a work of art and the viewer must decide what the work means to them … without reference to a "higher" authority. The viewer must trust their own judgment and no art has an automatic right of privilege based solely upon the perceived reputation of its creator.