The Test Bed project launches the same night and features new artwork created by Glynwdr University Fine Art graduate Sean Finegan. A new venture for Undegun, Test Bed is a new project set up by THIS Project to allow newly emerging artists an opportunity for their first solo exhibition.
Artists are asked to apply to us with an idea, and if selected are given a studio for one month to work on their projects, ideas or concepts.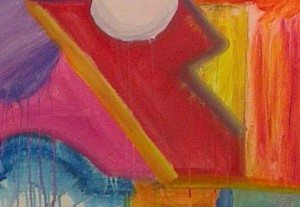 The project has been established with the help of Glyndwr University and a small group of their former art students. Sean Finegan is a Glyndwr Graduate, graduating in 2014, and has worked with THIS Project at Undegun as a volunteer since graduation as well as exhibiting with us at Galeri 3B last year, as part of the North Wales School of Art and Design Degree Show. Here Sean presents a series of canvases exploring and paying homage to
Projects like this are seen as vital for retaining talent in the local area, and giving new artists an opportunity to gain experience of exhibiting and working in a professional arts environment.
Sean's paintings are homages to painting itself – the processes and act of painting. Working autonomously, using varying strokes from light and fast to slow and heavy, these gestural actions along with pouring and dripping paint which make create work which is both vibrant and engaging.